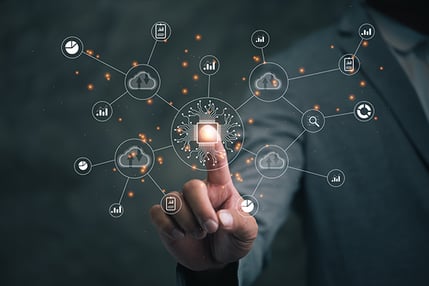 As Cybersecurity Month for 2021 draws to a close, businesses and consumers have had a plethora of information thrown their way about how to stay safe online. One thing is abundantly clear - now more than ever, businesses rely heavily on technology to operate and grow. Without a reliable technology partner, a business can lose minutes, hours or even days of valuable time. Many companies are looking to outsource managed IT services to keep their business technology running smoothly. Still, the number of managed IT services companies has become insane. These firms run the gambit from two young guys operating out of their parent's garage to an organization of thousands spread across the globe. So how can you be sure you're making the proper selection for your business?
First off, managed IT services companies specialize in providing a variety of technology functions for businesses. These services can include, but are not limited to:
Helpdesk services

Server and desktop monitoring

Cloud-based services like virtual servers, private servers and cloud-hosted systems

Onsite technical support
Businesses can save substantial money by outsourcing managed IT services compared to building an in-house IT team to handle these items. Managed IT services firms also focus solely on technology, which allows them to stay abreast of the constantly-evolving technology landscape. Finally, businesses can enjoy one predictable monthly cost that covers all of their technology needs with a managed IT services provider.
When companies are looking to hire a managed IT services provider, there are many things to consider before making a decision. Here are eight tips to help you find the best provider for your needs.
Know your business's long-term goals.

This idea may sound like silly, but knowing where you want your business to go and how you're going to get there will be critical in deciding the role IT plays in your plan. Because we rely on technology in business, the days of break/fix models usually won't suffice to cover your needs. A long-term IT plan is essential to any growing business.

Understand your business's IT needs and budget.

Every business is different, so you will need to know your business needs technical support before finding a managed IT services provider. Maybe your business already has an in-house IT person that handles employee help desk requests but not strategic items like a data backup plan or cybersecurity. Maybe your employees are spread out across a large geographic area and will only require remote support and not any onsite visits. Most importantly, it's critical to know what you can afford to spend. Knowing all of this will help you define your needs to a new IT partner AND allow the IT partner to customize a plan for your company.

Do your research on the IT providers you plan to interview.

Before you sit down at the table with any potential IT partner, please research who they are. Know what services they offer and how they fit into your goals. Some managed IT providers focus specifically on the traditional IT management role. In contrast, others may provide other services such as website design, mobile app development and other functions. Have a plan in mind about the services you need, and when you talk with potential partners, make sure to listen to what they can do for your business. It's vital to get the most out of your relationship.

Look for a proven track record.

With the proliferation of IT companies, there seems to be one on every corner nowadays. A reputable managed IT services firm will be able to provide you with references that you can contact to find out how they are doing. Don't be afraid to use Google to find customer reviews and testimonials about them as well. Typically, most companies, in general, will focus on testimonials, so it's essential to look for reviews on platforms like Google or Yelp to get a clearer picture of a company's reputation.

Ask questions about their staff.

When you begin to meet with potential IT partners, ask about the people working directly with you. Please think of the meeting as a job interview, and ask all the questions you want about their experience, specializations, certifications and more. Find out how many companies each of their support staff work with so that you feel comfortable with the level of service you'll be receiving. Is it one person, or will there be a team of folks to support you? Also, knowing how a company does business helps you decide if they're a good fit for

your

business.

Ask questions about who their industry partners are and their experience with third-party applications.

Most, if not all, managed IT providers work with partners in the industry to provide their services. For instance, if the company offers hardware, like laptops or servers, from where do they come? You want to know that your provider is doing business with other reputable companies. All businesses work with third-party applications. You want to be sure that your IT provider can support those platforms. Suppose they don't have experience with your company's primary ERP system or your collaboration tools. In that case, they aren't the company with which you want to work.

Find out if they work with any other companies in your industry.

A good managed IT provider will have clients in various sectors. Having experience working with other companies in the same industry as yours is a plus. If they have companies in your industry, be sure to ask for a reference for one of those companies.

Understand the customer experience.

When you sign up with a managed IT services provider, it's essential to realize that this won't likely be a short-term gig. It's critical that your team and the IT services teams can work well together. It's also essential to understand the service level agreement you'll be working within and what you can expect with this provider. Ask yourself if you can see yourself working with this provider for a long time. Make sure you're comfortable with the way they speak to clients (if you're not very techie, then highly technical answers aren't going to work) and if you can provide regular feedback on your experiences with staff interactions.
Just like with many facets of your business, entering into an agreement with a managed IT services provider isn't an easy decision. By understanding your business's needs and long-term goals, doing your research and asking the right questions, you can find an IT provider that will help your business succeed. Fraser Advanced Information Systems has been in the business technology business for more than 50 years and in the managed IT space for more than 15. We offer full-service IT solutions to help companies to manage technology and scale up as they grow.