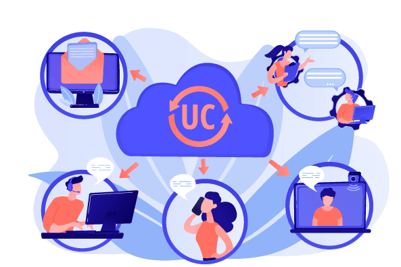 Think of all the ways employees in your business communicate. There's telephone calls, text messages, instant messages, faxes, video conferencing and more. Unified communications is a a phone system that brings all of these avenues together into one easy to use system.
So if bringing all of these methods together is unified communications, why isn't everyone doing it? Wouldn't it be beneficial for all businesses? Absolutely! Today when a business buys a new phone system, they are looking for ways to integrate their communications into one solution, and with a traditional phone system, that just ins't possible. This is where a unified communications system comes in. With a unified communications system, a business is able to manage multiple tools such as telephones, instant messaging, faxing, email, voicemail, video conferencing in one solution and one provider.
What solutions are included with a unified communications solution?
VoIP: Voice over Internet Protocol or VoIP allows for voice communication via the internet.
Video conferencing: With today's collaborative workplaces, video conferencing is the norm for most businesses. With a unified communications solution, employees can set up virtual meetings and make high-quality video calls with team members across various locations. It's also incredibly useful when working with vendors and clients by having a method where users from different entities can get connect with each other without being physically in the same place.
Web chat: Web chats or live chats allow for users to have conversations without picking up the telephone and actually calling someone. This is especially helpful in a customer service model, providing multiple ways in which customers can find assistance with their issues.
Text messaging: Unified communications allows businesses to send quick notifications to customers via text messages. And with multimedia messaging or MMS, the messaging you send to customers can include images, videos and audio files, allowing you to add context to your simple messages.
What types of things can my business do with a unified communications solution that I can't do with my traditional phone system?
Increased mobility. With a unified communication system, you can make and receive calls, chat and more, all through your office extension. This allows you stay connected to the office when you're not at your physical location.
Faxing. Faxes in a unified communication environment are received by the system and then routed to the recipients as an email attachment.
Conference capabilities. Having the ability to conference allows employees to meet with voice and video from multiple locations. It can also be used with clients outside of your organization.
User status. Users on the unified communications platform can easily let others know if they're available to communicate. Users can set their communications on do not disturb, active and even out of office status. This lets others know immediately if someone is able to chat.
Collaboration. With a unified communications system, the avenues of communication are expanded, and employees can utilize more flexible work options to collaborate.
What are the advantages of having a unified communications solution in place?
Cost savings. Unified Communications as a Service (UCaaS) is becoming the industry standard for small and mid-size businesses. An on-premise communication system was often cost prohibitive for these organizations due to the large expenditures for all of the equipment involved. With UCaaS, a small business can have the same type of system at a fraction of the cost.
Increased productivity. With mobility being one of the biggest features of a unified communications system, employees are no longer tied to a location or time restraint. They are able to work anytime, anywhere, and this flexibility leads to a more productive workforce.
Better use of your IT department resources. With UCaaS, your IT department isn't going to be responsible for the upkeep of all of the hardware and software associated with your communications platform. The UCaaS provider will handle these tasks. This will allow your IT staff to focus on the projects that will help your business realize their goals and revenue targets.
With all of the benefits a unified communications solution can provide, it is only a matter of time until most businesses move to some sort of platform of this nature. With Fraser's Smart Connect Unified Voice ™ program, your business can work with an industry leader to bring your communications solutions under one provider with reliability, efficiency and cost savings.