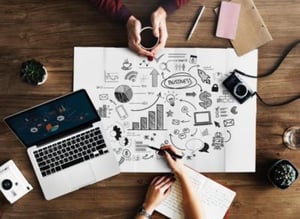 New technologies emerge every day for business. Whether it's artificial intelligence, cybersecurity or the latest and greatest gadgets, there are always new technologies to consider. For small businesses, access to these tools or the ability to afford them is often prohibitive. According to a recent Deloitte study, 80% of small businesses don't take advantage of all of the digital tools that are available to them. By utilizing technology effectively, tech savvy businesses significant improvements including:
Earned two times as much revenue per employee
Experienced revenue growth over the previous year that was nearly four times as high
Were almost three times as likely to be creating jobs over the previous year
Had an average employment growth rate that was more than six times as high
Were also three times as likely to have exported over the previous year
With all of the technology out there, we've selected a few that we believe are both affordable and will make a big impact on your bottom line.
Security Needs To Be A Top Priority. Many small companies think that their chances of being hacked or targeted by cyber attacks is minimal. But in 2018, it was reported that 58% of all cyber attacks

were on small businesses. Often small business owners believe it won't happen to them. Cybercriminals know that mindset exists. This makes the small business an easy cash grab for them. They will hold their systems hostage with ransomware or steal customer data to sell on the

dark web

. To keep your business safe, there are affordable options that can be implemented to educate employees about the risks of cyber attacks and how to identify them. Fraser offers this program through our

Managed IT Services

group.

Hire A Managed IT Services Provider. Most small businesses may have someone in their company who can handle simple computer issues. Hiring a full-time IT person though isn't fiscally responsible. This leaves your small business vulnerable to IT issues. By hiring a Managed IT Services Provider, your business can tap into the expertise of IT professionals without the cost of an IT salary. An affordable Managed IT Service Provider will work with you to give you a monthly fixed cost for their services. Outsourcing your IT needs allows your staff to focus on their roles in your business. Managed IT Services Providers give all the benefits of a full-time staff member without the large salary expenditure. It also gives you an entire team of experts to work with to monitor your systems and provide 24/7 network support.
Invest In Updated Technology. Best practices in IT recommend upgrading computers every three years or sooner, but many small businesses hold on to equipment for as long as it is functioning. This creates issues with upgrades, security patches and operating system changes. With the rapid speed at which technology changes, it is often easy to have obsolete equipment. Instead of purchasing equipment, many companies opt to lease equipment. This helps them conserve money by having a monthly fixed cost for all of their equipment. It also allows them to upgrade at the end of the lease to ensure they have the most updated technology available. This doesn't only apply to computers, but servers and hardware as well. Your Managed IT provider can supply you with information on equipment leasing and how to take advantage of the programs they have. Fraser offers leasing of computers and related hardware through our Managed IT Services group.
Get On The Cloud. Small businesses use all sorts of cloud service platforms to perform vital business functions, but a large number still use on-site servers to store their data. To cut costs and minimize risk of data loss, a move to the cloud just makes sense. Advantages to utilizing cloud storage include:

No onsite servers means no equipment to maintain
No manual backups to perform
The ability to grow as your business grows
Automatic system upgrades ensures optimum security, reliability and performance
Continuous backups allows for quick retrieval of data in the event of a cyber attack
While there are many technology advances out there for business, the most important thing a small business can do is protect itself from cybersecurity risks. All of the options listed here are easy and affordable ways to do so, and Fraser's team of technology experts can help you find the best options for your business. Contact us today to learn how we can be of assistance.