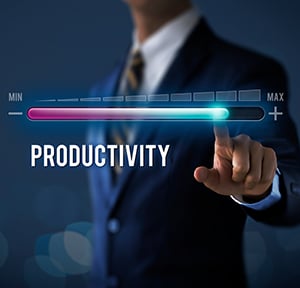 When most people look at their copier, they think of it as a device that prints and makes copies of documents. Beyond the obvious functionality, there is much more your copier can do to boost your workplace productivity. Today's multifunction printers and copiers have loads of options that can take your business to the next level regarding efficiency. Here are five features of your copier that your businesses can use to improve operations and make better use of your company resources.
Secure Pull Printing


One feature that is a must for any busy office is secure pull print. Pull printing is a feature that holds a print job on the print server until a user authenticates at the device to release it manually. This process protects sensitive data from falling into the hands of unauthorized users.

To authenticate at the device, users enter a password or pin code. You can also integrate your device with an existing proxy badge system you may already use for building access. In that case, users swipe their badge over a badge reader to release their print jobs from the queue.


Pull printing also reduces waste. Studies show that at least 30% of all documents printed are never picked up from the printer. With pull printing, that document is never printed unless the user manually releases it. This practice also saves on toner supplies.
Custom User Interface


Copiers and printers must be accessible and intuitive for employees to utilize their usefulness. For your business, that interface also should be customizable so that the most critical functions you use are readily available with just a touch. This customization eliminates extra button clicks or screen taps to perform the most common tasks.

With Sharp MFPs from Fraser, the interface is very similar to a tablet with a user-friendly touchscreen that allows you to select what options are displayed. Because of its easy-to-use design, users can feel comfortable using device features. With integrations like Google Drive and Dropbox, it's easy to link jobs to file-sharing software for a smooth workflow.

Customized Smart Workflows

Smart workflows are tasks your copier can handle to make your processes more efficient. Simple tasks that require too many steps take up valuable time in your day. Still, you can automate actions to remove roadblocks to productivity with a workflow.

An example of a smart workflow might include scanning invoices directly into your accounting system for payment. In the past, you may have had to scan the document, send it to yourself via email, go back to your computer and send it to your accounting department for them to upload. With this simple workflow, you eliminate several steps and save time.

There are so many workflows you can develop to save time. Our document specialists at Fraser are available to help you make the most of workflows for your environment.

Auto Duplexing for the Win!


If your business is going through paper at breakneck speed, auto-duplexing features could be the answer to your prayers. Auto-duplexing allows users to print on both sides of a sheet of paper automatically. According to the Environmental Protection Agency, auto-duplexing can help companies reduce paper costs by 30-50%!

While saving money on paper usage is excellent, auto-duplexing also packs a one-two punch by reducing energy consumption. With auto-duplex, the copier only needs to fire up once to print a double-sided document. This procedure is also helpful for companies with green initiatives to reduce their carbon footprint.

Remote Device Management

Centralized management of your print fleet is something that every IT department needs. With devices from Sharp, your IT department can see your Sharp fleet on one easy-to-read web console. Here, remove device management shows information such as paper tray levels, toner levels, output counts and more.

Along with easy monitoring, IT staff can remotely access the device's touchscreen panel to quickly help users who may be having an issue without leaving their office. If your business uses Sharp display products, you can also include them in the remote device management system.
Copiers and printers are indeed a centralized hub for our businesses. By utilizing oft-overlooked features like the ones above, companies can boost productivity and concentrate their time on what matters most. With rising inflation, businesses need to run leaner and find ways to work smarter, not harder. With Fraser and Sharp, we can help you save money and be more efficient.