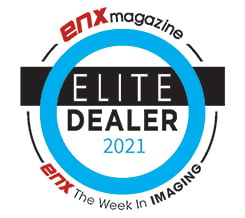 ENX Magazine has named Fraser Advanced Information Systems, a business technology, solutions and services provider, as an Elite Dealer for 2021. ENX Magazine/The Week in Imaging is a pre-eminent print and online publication for dealers and resellers of office technology. The December 2021 issue celebrates more than 100 dealers from across the country representing dealerships in size from more than $150 million to $5 million in yearly revenues.
Each year, ENX Magazine judges Elite Dealer applicants on a number of criteria, from technical service excellence to marketing proficiency, growth initiatives, technology leadership, industry accolades and philanthropy. Those dealers chosen are profiled in the December issue of ENX Magazine.
"We salute this year's cast of Elite Dealers, who continue to demonstrate an unwavering commitment to customer and technical service excellence in the face of unprecedented challenges," said Susan Neimes, managing editor of ENX Magazine and ENX The Week In Imaging. "Each dealer has exhibited unparalleled resilience in continuing to adapt to the evolving needs of their customer base. At the same time, the Elite Dealer is mindful of preserving internal jobs and fomenting a family-based culture, because their people are the face of the organization. This year's list is a testament to teamwork and unity."
Owner and CEO Bill Fraser stated, "We are grateful to once again be selected as an Elite Dealer. Such an honor is truly a recognition of our company culture, entrepreneurship, emphasis on best-in-class customer service and the innovation we provide to customers across Eastern Pennsylvania and Western New Jersey each and every day. Without our customers, an honor such as this would not be possible, and we thank them every day for trusting us with their office technology needs."
ENX Magazine is a monthly publication dedicated to the document imaging industry since its inception in 1994. ENX delivers exclusive editorial coverage on market opportunities, industry trends, company profiles, new products and industry insights. With a circulation of more than 30,000, ENX serves as a leading integrated resource that brings together the minds of the office technology industry with products and business concepts and strategies for professionals.
Fraser Advanced Information Systems is a leading provider of business technology solutions for 50 years. With clients in all types of industries throughout the Mid-Atlantic region, Fraser helps companies digitally transform their businesses through the Internet of Things and Fraser's Smart Tool Set™. Through our Global Support Center based in our West Reading headquarters, Fraser can remotely manage our clients' business processes and equipment - from copier meter readings and supply replenishment to network monitoring and security - via the cloud. We provide services in software solutions and IT/network support, voice and video conferencing, cybersecurity, data backup and disaster recovery, managed print, digital displays and signage. We are an authorized dealer of best-in-breed technology from Sharp, Canon, Lexmark, KIP, Muratec and HP. Fraser is always searching for opportunities to deliver additional value among potential and current customers, working to make ordinary offices SMART.