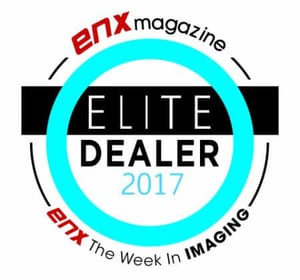 ENX Magazine/The Week in Imaging has named Fraser Advanced Information Systems, a business technology, solutions and services provider, Elite Dealer for 2017. ENX Magazine/The Week in Imaging is a pre-eminent print and online publication for dealers and resellers of office technology. The December 2017 issue celebrates more than 100 dealers from across the country representing dealerships in size from more than $150M to $5M in yearly revenues.
"We're pleased to present the 2017 Elite Dealers and congratulate this year's honorees for their remarkable entrepreneurial spirit and accomplishments in a challenging marketplace and leading their dealerships toward the path of continued success," said Susan Neimes, managing editor of ENX Magazine and ENX/The Week In Imaging.
Added Erik Cagle, editorial director of ENX Magazine, "While the industry continues to consolidate, our roster of high-ranking performers continues to grow. I am particularly impressed with the caliber of this year's entries, and their laundry list of forward-thinking initiatives only underscores the health and vitality of the office technology dealer space. I believe this bodes well for the future of our industry."
Owner and CEO Bill Fraser stated, "We are grateful to once again be selected as Elite Dealer. Such an honor is a testament of our company culture, entrepreneurship, emphasis on best-in-class customer service and the innovation we provide to businesses and institutions across Eastern Pennsylvania and Western New Jersey each and every day. Without our customers, an honor such as this would not be possible, and we thank them every day for trusting us with their office technology needs."