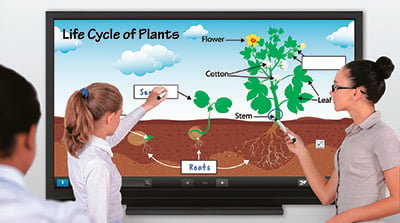 Think about the school environment you learned in 20 years ago. Remember the chalkboards? They spanned the entire front of the classroom, and sometimes there was even one that you could move around the room. When you had to go up to the front of the room to work out that crazy math problem on the board, you probably screeched the chalk on the board and then walked back to your desk covered in dust. And God forbid when you were the kid who had to go outside to "clap the erasers." As time went on, technology evolved, and we soon were introduced to the overhead projector. While they were indeed cleaner than all the chalk dust, having to print out those plastic sheets was a pain, and once you wrote on it with your Sharpie, that sheet was trash.
Next up was the whiteboard - a way to save paper, eliminate chalk and keep the lights on so students didn't fall asleep. Soon, the interactive whiteboard was born, and it changed the game in the ways that students learned. Teachers rejoiced as they threw away the chalk and stored the markers, using a mouse, stylus, and index fingers to create a truly interactive classroom experience. Students flourished in the interactive environment.
As learning becomes more and more digital, particularly due to COVID-19, technology has evolved to help teachers and students adapt. More importantly, the technology became easier to use. Those who were once die-hard chalkboard users began to migrate to the interactive whiteboard world. Once limited by just a piece of chalk and slate, now teachers could accomplish a wide range of tasks seamlessly, from presentations to collaboration.
What are the benefits of an interactive whiteboard?
Enhanced lessons:

Interactive whiteboards are valuable tools for integrating learning styles. Students can experience a connection to what they are learning by hearing, seeing and interacting with the board through touch. Movies, PowerPoint presentations and graphics can be used in addition to standard text-based lessons to bring subjects to life. Such interactive learning helps students learn better and retain more valuable information.

Ease-of-use:

One of the most obvious perks of the interactive whiteboard is that it doesn't need much maintenance. Data is easily marked using a stylus or finger for highlighting, drawing and writing. There's no need for extra tools, meaning no mess or cleanup (remember the clapping erasers!).

Collaboration:

Interactive whiteboards are ideal for students to interact with the material from which they are learning. Students thrive with hands-on learning, so their understanding of material comes from interacting with the board and the lesson. Classrooms can participate in educational games, even when they are learning remotely. Interactive whiteboards also offer immediate feedback, allowing students and teachers to assess student progress quickly.

Flexibility:

Interactive whiteboards can host many different platforms. Teachers have a limitless array of material to choose from, including photos, graphs, illustrations or videos. Sharp Aquos Boards® provide plug-and-play compatibility for quick integration with various cloud-based platforms, including Google Classroom. The board allows presentations on a large format display inside the classroom. The precise, 20-point multi-touch functionality enables multiple people to collaborate easily and facilitate effective learning.
What about the cost?
Interactive whiteboards aren't the least expensive option for learning. You will undoubtedly save money on dry-erase markers and chalk! And if you're looking to have a big screen to present to your classroom, a large TV or monitor will suffice. But the most significant benefit of the interactive whiteboard is how it lets you interact with the lesson on the screen and how students respond to the hands-on approach to learning. The most crucial aspect to consider when choosing to add an interactive whiteboard to a classroom is usability. When you're researching vendors to provide interactive whiteboards, look for those that offer thorough demos and no-cost training included with your purchase.
While students are returning to the classroom, a hybrid approach appears to be the norm for the near future. Educators need to plan for not only their current needs but also for the future. A smart classroom equipped with an interactive whiteboard and modern tools helps with effective learning outcomes for all students. They enable learners to retain more information and experience more efficient learning experiences. Having the right technology in your classroom can make the most significant difference in teachers' and students' lives.
If your school district, college, or university is interested in learning how interactive whiteboards can improve your students' education results, please reach out to us. Fraser is pleased to be an authorized reseller of all sorts of Sharp Aquos Boards and digital displays.