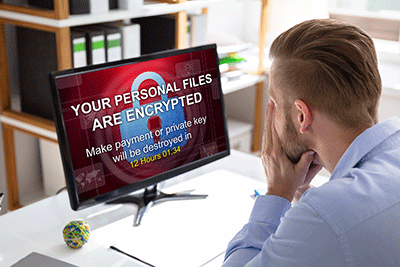 The hits just keep on coming with ransomware. From Colonial Pipeline and JBS Foods most recently, to computer manufacturer Acer and insurance giants AXA and CNA, all of these large enterprises have fallen victim to ransomware in the last 4 months. Whether by a phishing attack, human errors or outdated patches, hackers were able to get into their networks, halt business and demand huge ransoms to release the data. While these large attacks are the ones we hear about, according to a recent IDAgent report, a ransomware attack is attempted every 11 seconds. Small and mid-size businesses who aren't prepared are low-hanging fruit for bad guys, and now it seems it's not a matter of if but when a business will experience an attack.
The FBI has issued statements recently warning small and mid-size businesses of the dangers of a ransomware attack, and they are urging those entities to act now to prevent ransomware. At Fraser, we continue to work on behalf of our managed IT services clients to keep their data safe and protected. So what can your business do to protect itself from an attack? Here are some tips to help you get started.
Always back up your systems and data, ideally both locally and in the cloud. Backing up data and systems and keeping those backups safe where a hacker cannot easily access them is critical. This will provide you with some insurance should an attack happen because you will be able to get systems and data back online more quickly.
Use early threat detection systems. Continuous monitoring of your systems and data is key to knowing a breach or attack has occurred. This early threat detection system monitors for signs of strange or malicious activity in real-time and provides alerts so you can take appropriate action to mitigate the situation.
Employ a patch-updating system. Outdated software and operating systems are a hacker's dream. Any vulnerability in software or operating systems is like an open window for cybercriminals, and they're always looking for that opportunity to get into a business. Patches provide you with security updates that make sure all those windows are closed and locked. With a patch-updating system, you can keep all of your software updated with an automated process that updates all users at times that allow for minimal interruption of business operations.
Educate employees! This is a point we cannot stress enough. The BEST line of defense against ransomware attacks is teaching your employees what to look for when it comes to ransomware. This includes common ransomware red flags like phishing emails, malvertisements, suspicious email attachments and other social engineering tactics. An educated employee can keep your business safe.
Email filtering. A robust email filtering program can provide great protection from ransomware. Many ransomware attacks come from phishing emails or email attachments. Email filtering allows you to b

lock malicious executables, spam, phishing emails, and other methods ransomware is known to use. These programs also include lists of known spammers and malware that can be clocked by your mail server.

Provide the least amount of access possible. It may sound like you don't trust your employees, but not everybody in your business needs access to every system or software package you have. A strong access management program can restrict unwarranted access to files or systems and also reduces the number of "open windows" that hackers can get in.
With these handy tips, you can mitigate your risk of being a ransomware victim. You may be thinking, "well if these simple tips will keep companies safe, how did these large enterprises still get hit?", and that's a great question. Cybersecurity is a full-time job. If your small or mid-size business doesn't have dedicated staff to handle your cybersecurity needs, you're likely falling short in one or more of the areas above. A reputable Managed IT Services company, like Fraser, can help you manage all of these things effectively. Managed IT Services provide businesses with the same or better services that you would get from a full-time IT person with a much smaller price tag. Managed IT Service providers are in the business of cybersecurity. They have staff who are specifically focused on staying on top of the latest ransomware news and strategies, and that is really an invaluable resource for clients. Managed IT Services also provides you with a predictable monthly expense for your IT service needs, so you can budget appropriately and know what your spend will be.
For a Free IT Assessment, click the button below to learn how Fraser can help you stay safe from ransomware.