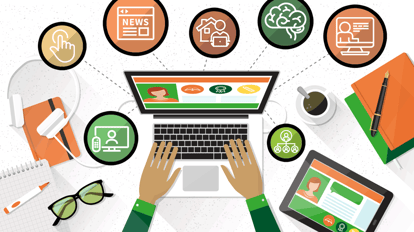 While employees at some companies have been working remotely for years, only about 5% of all workers are doing so completely from home. The number of employees who work remotely at least some of the time is approximately 43% according to a Gallup poll. With the fear of Coronavirus (COVID-19) expanding daily, working from home could become a reality for some businesses as companies try to contain the spread. If your business was required to have staff work from home for a period of time, would you be prepared and able to do so?
There are a host of tools you may already have in place to handle a remote workforce. Here are some of our recommendations for tech tools that will help remote staff work more efficiently.
Unified Communications. Unified communications is a strategy that involves bundling together all of your communications avenues (VoIP, video conferencing, web chat, etc.). With a unified communications system in place, workers can have their desk phone in the office transferred directly to their cell phone. This prevents employees from missing calls being out of the office. Web chat and text messaging allows employees to communicate quickly and stay connected without picking up the phone for a call. All of these things will be important for a remote worker.
Video Conferencing. When having an important meeting, you want all of your employees to feel as if they are in the same room and contributing or communicating. Conference calls just don't provide that. With video conferencing, employees can speak to each other in real time from anywhere. This provides face-to-face interactions that help team members communicate more clearly.
The Cloud. Nearly all companies have some system or another in the cloud. If your company hasn't gotten on the cloud bandwagon, it will be a must if you plan to have remote workers. The cloud will give employees access to a virtual work environment where they can access and save files and collaborate with other employees. The cloud also offers cost savings as you avoid spending large amounts of money on equipment and it is scalable to grow with your business.
Mobile Tools. When employees aren't working in the office, they are relying heavily on their mobile devices and laptops. This can include VPN remote access or employee portable WiFi devices to provide stable and secure connections.
So whether you've been wanting to implement a remote work environment or are preparing for the possible Coronavirus fallout, there are a lot of tools available to help create a seamless virtual office for employees. Our Managed IT Services group can help you put together a plan that is both efficient and cost-effective.