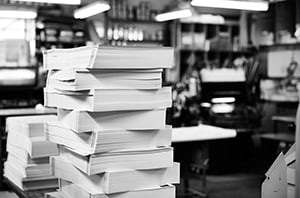 When you order new marketing collateral, are you left throwing away a bunch of old materials? Does your business print loads of paper invoices, legal documents or forms? Are you constantly changing forms or documents that you have to reprint? If so, a production print device may be suitable for your company. This blog will examine what production print is and pose some questions to determine if it's a good fit for you.
I Don't Even Know What Production Print Is!
If you're unfamiliar with the term production print, it is a category of printers used for high-volume printing. The type of equipment used for high-volume printing is critical. The speed of the device typically defines production printing. Machines that print around 70 pages per minute or higher are considered production print solutions.
What Types of Companies Use Production Print?
When you think of production printing, you are likely thinking about a print shop or duplicating facility (Staples, Fed Ex Office [formerly Kinkos], etc.). But other industries can find great benefits in production printers.
Law Firms - The legal industry is a highly paper-intensive field. With all of the legal briefs, document filings, forms and more, the average attorney prints more than 10,000 pages a year. Using a 40 page per minute machine, in this case, could be problematic. The smaller, standard multifunction device can't handle that type of bulk printing.
Marketing and Advertising - In the marketing field, brochures, pamphlets, flyers, catalogs and more are critical to a campaign's success. These companies need a reliable production print unit that can print in brilliant color for high-quality materials.
Manufacturing - Many manufacturing companies have to produce large quantities of regulatory materials, manuals, and other documents. Those documents often undergo constant changes that make printing a large amount wasteful.
Churches - Churches are not printing all day, every day, but churches publish a lot of bulletins and programs of service for parishioners every week. Having a small multifunction device will not end well for someone's Sunday!
Is Production Print Right For Your Business?
The answer to this question is that it depends. If your company is doing any of the above activities and using a standard multifunction device, the likelihood is that you're overworking that machine. If you're printing more than 25,000 pages in a month, a 40 page per minute device will break down quickly.
Most people are looking for a device that gets their jobs done quickly for the least amount of money. While a smaller device is cheaper, with high usage it will have repeated service issues. Copiers are a lot like cars. The more mileage (or, in this case, impressions), the more likely it is that it will break down.
When it comes to cost, a production print device will cost more than a standard device. One production print machine can cost between $25,000 and $1M (purchase price). While a business may think that's a lot of money for a printing device, you need a device that can handle the volume you need to produce if you are printing large jobs regularly.
If you are using a smaller multifunction device to do large-job printing, you will not only be beating your equipment into the ground, but you'll pay more for the service on that device. A smaller device holds less toner, so you will be replacing toner more frequently and likely having more downtime due to service issues.
If you are outsourcing large-volume printing, consider how much you're spending on those types of jobs. For instance, imagine you have a one-page, one-sided, black and white document that you need to print 2,000 of once a week. The cost to get this job done at Staples is around $200 per week. In a month, that's $800!
With the power of leasing a production device, $800 can go a long way to getting you a piece of equipment in your company that can handle your volume.
When you're outsourcing a print job, you have little control over the output you'll receive from the printer once submitted. You won't have any control over when the order is printed or will be ready, and you certainly won't be able to do it on your time. Also, for economic purposes, ordering in larger quantities from a print shop lowers the overall job cost. But you will have to make sure you can use all of those copies before your document becomes obsolete.
How To Get A Production Print Review
These simple examples have hopefully made you think about the printing you do in your business and how production print might be a viable avenue for your company. Take some time to consider how you could save money and improve efficiency by having a production print device in-house. After making that list, contact a local copier dealer, like Fraser, to learn what options you have for production print for your business.
Our production print specialists will analyze your print volumes, discuss how production print could help you save money on printing and show you what options are available. Click below to get a free print analysis.