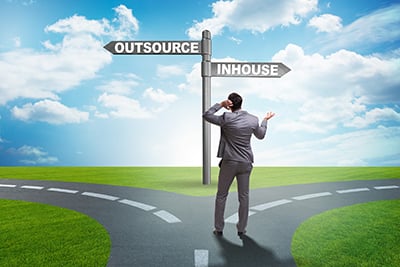 PDFs, email and digital files dominate the landscape of business today. But a majority of companies continue to use brochures, flyers, posters and direct mail to help their business grow. Unfortunately, many companies are reconsidering their next print order because of the high cost of outsourcing print. Other businesses look toward bringing that print work in-house as a cost-effective option.
So which is suitable for your business - outsourced or in-house print? This blog will discuss the pros and cons of both options to help you decide what's best for your company.
What Factors Do You Need to Consider?
You should examine several factors to ensure whatever decision you make regarding print is right for your business. Some of these include:
Costs
Materials to be printed
Control over timelines
Managing print and design work
When deciding on in-house or outsourced printing, each will have pros and cons. Review all data you have available. Create a list of pros and cons for each option, and decide from the facts you know.
Compare Costs
The most obvious factor that comes into play with the outsourcing or in-house debate is cost. Everybody has a budget to adhere to, no matter your business's size. Companies make decisions first and foremost based on budgets.
Most businesses believe outsourcing will be cheaper. They don't have robust printing devices on hand, they don't have space for a large printer and they don't have a stock of different media types to select. The outside printing company has all of that on hand.
On the flip side, the cost of outsourced print has increased tremendously in the last several years. One contributing factor is the rising cost of paper, which has seen double and triple-digit increases since the pandemic began. Shipping costs have also skyrocketed, and printers cannot absorb all of these increases alone. They have to pass this on to their customers.
Bringing print in-house involves costs, and the initial outlay can often scare companies. While the upfront costs may be higher, you can realize savings as you print more and more materials.
In-house printing has a variety of features that produces similar results to a commercial printer including full-bleed, booklet finishing and more. Many of these devices have a smaller footprint than you'd think. Flexible leasing options on equipment help lower upfront costs and spread that amount over time.
Types of Materials Printed
Depending on the types of things your business is printing, the print volumes will help you determine if in-house print is justified. Print jobs like brochures, booklets, flyers and proposals can all be handled in-house with the right equipment. If your business is printing at a high enough volume, moving to the in-house model makes sense.
With items you print less frequently, like high-quality posters and window displays, the cost to acquire that type of equipment may not be justified. A mix of in-house and outsourced print may help optimize expenses in these cases.
Control Over Timelines
Bringing your print in-house versus outsourcing has several benefits. One of the main benefits is timelines. When the equipment is in your company and ready when you are, you control how long jobs take to complete.
With outsourcing, you are at the mercy of the printer's schedule. Mitigate timing issues with outside printers by placing your orders well in advance. Sometimes, you won't have that luxury.
Consider how much you value control over your print production to determine how valuable time is. If you are often dealing with tight deadlines and rapid turnarounds, in-house print may be the way to go. Most printers deliver effective printing options, but in-house print gives you the ultimate control over your timeline.
Managing Print and Design
If your business has a marketing department, you already have the components to move to in-house print. With a marketing department and in-house print, you get total control over your marketing materials and campaigns from start to finish.
But maybe you don't have marketing staff. Perhaps you're using an outside graphic designer to create marketing collateral. In this case, you'll need to consider staff and equipment costs to develop your in-house marketing department. If you're outsourcing all of this and it works for your business, you may not want to take on those costs.
There is no right or wrong way to handle printing projects. There are many advantages and downsides to both in-house and outsourced print. To determine which solution is right for your company, take the time to analyze your needs and your budget. Talk to a print specialist to help you understand the complete breakdown of your decision and how it will impact your bottom line.
To speak to one of our print specialists, click the button below.