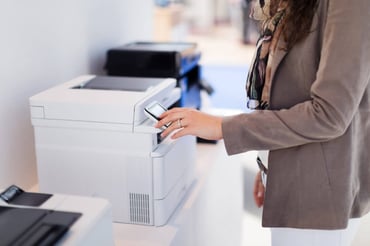 It's no big secret that law firms and legal practices rely on hard copy documents to do business. The legal industry is full of printed material from contracts, deeds, litigation, agreements, leases, and more. According to research, the average law firm in the United States spends approximately three percent of its yearly revenue on printing. For this reason alone, law firms need to evaluate their print activities to have insight into their printer environments to streamline processes.
In document-heavy industries like the legal world, optimizing the print process is critical. If your law firm isn't already partnering with a managed print services provider, now is the time to begin reviewing your print practices to take advantage of the benefits they can provide. Here are four great reasons that law firms love managed print services.
A consistent print budget with reduced costs.

The most significant and compelling benefit of a managed print services program for your law firm is the cost savings they can provide. When your firm contracts with a managed print services provider, the service comes at a single monthly cost, allowing you to have one predictable monthly fee for your print services. By reviewing your print environment and replacing costly desktop printers with cost-effective multifunction devices, firms can save upwards of 20% on their annual print spend. Automated toner replenishment also allows firms to stop spending so much money on supplies; when your toner reaches a specified level, your provider will automatically send you more toner.

Less downtime means more productivity.

A busy law firm needs its printing devices to be up and running at all times. Outdated and slow equipment isn't going to provide you with that type of efficiency. With a managed print services program, your firm can get the latest print technology that is energy and supply-efficient. Upgraded equipment gives you the latest features and fewer equipment breakdowns to keep your practice humming. It also eliminates costly repairs to old devices, and your managed print services provider will conduct regular preventive maintenance checks to keep your new devices running smoothly and efficiently.

Control over your print environment and visibility of all print activities.

A managed print services program not only provides you with cost savings but it allows your firm to track all of your print activities on all of your equipment. The software will enable you to bill activities to clients based on actual print data quickly. By analyzing print behavior in your office, you can also save more money by setting up rules-based printing that allows you to control paper and supply use and stops wasteful printing habits.

Better document and information security.

The legal industry handles sensitive and confidential documents daily. The safety of those documents and your firm data is paramount in today's cybersecurity environment. Printers have become a popular avenue into many businesses because they remain unmonitored on the business network. With a

managed print security assessment

, your provider can ensure that your devices are set up with the proper security settings to reduce the risk and exposure of your firm to cyberattacks. Managed print services also provide pull-printing solutions that require pin codes or proxy ID swiping before a user can print a document at the device. This means less sensitive information left on the printer for prying eyes.
Fraser Advanced Information Systems is a leading managed print services provider for law firms and legal practices across Pennsylvania, New Jersey and Delaware. We help law offices optimize their print processes to have a smarter, more secure print environment. Our Managed Print Specialists will conduct a full assessment of your current print environment and provide recommendations to:
Reduce costs and downtime

Give you better control over your printing and, most importantly,

Fortify your document and information security on your print devices
Best of all, you can get a free assessment to see how your firm can benefit from managed print services.