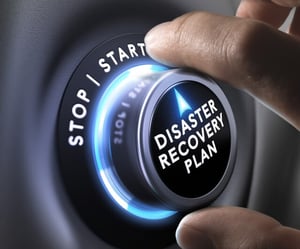 If your business was a victim of a flood, would you be able to recover quickly? What about a fire? How about a ransomware attack? All of these are potential disasters for a business, but with a solid disaster recovery plan in place, most businesses could survive. According to the Disaster Recovery Preparedness Council, three out of four businesses are at risk of being unprepared for a disaster. With reported losses from disasters ranging from a few thousand dollars to millions, it is imperative to implement your disaster recovery plan today.
Prior to a disaster ever happening (and quite honestly, it's not a matter of if but when), ask yourself the following:
Do you have a disaster recovery solution in place?
Do you trust it?
When was the last time you tested your backup?
How long does it take you to recover from your current backup solution?
How long can your business realistically be down and survive?
What is the financial cost of downtime to your business?
When a disaster occurs, is there an offsite copy?
Here are seven steps to walk through once disaster becomes reality:
Assess the problem and its impact on your business. Every disaster is different. Before doing anything, understand the underlying issues and how it may affect you. Is the issue local to one machine, or does it affect your entire system? Have files been deleted or are servers/workstations down?
Establish recovery goals. Recovery is what makes a Disaster Recovery Solution different from a simple backup product. Plan out your road to recovery. Identify critical systems and prioritize recovery tasks. Determine the date/time from which you should recover. How long can your recovery take?
Select the appropriate recovery type(s). To get on the road to recovery, the appropriate recovery procedure must be followed. Think about which approach will help you reach your end goal best.
Verify the recovery and confirm functionality with users. Once a recovery is verified, confirm that it interacts as you wish with users. Test your network connectivity. Ensure all users can access resources and applications in the virtual environment.
Restore the original system(s) if necessary. If the original system needs to be restored, decide what restoration process will work best.
Self-assess afterwards. After your recovery is complete, take time to review and debrief. What did your team do well? What could they have done differently? What can be done in the future with the disaster recovery solution?
Select a SOLID technology partner. While this step is listed last, selecting a trusted partner for technology is the most important thing you can do for your IT environment. Think about these questions - Is my current IT team a strong one? Are they really prepared for this issue should it arise? Is there a disaster recovery strategy in place and is it current? How much more time do I need to invest to stay current on disaster recovery? Would outsourcing this IT function make better sense for my business?
Many companies today are opting to utilize outsourced help when it comes to disaster recovery. Fraser is experienced in the landscape of these increasing threats to business continuity. Contact us today to learn how we can help ensure your company's disaster recovery.