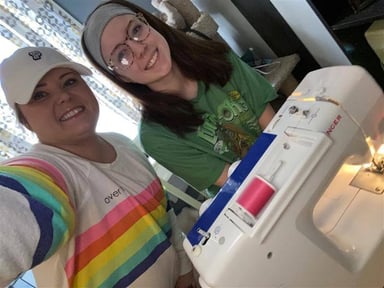 Fraser Advanced Information Systems, as an essential business, remains open for operations. While many of our employees are now in our remote work program and performing their jobs from home, there are others for whom that just isn't possible. Our Logistics Team, including delivery drivers and equipment installers, continue to be out on the road and installing critical equipment for businesses in our area.
After several videos popped up online, our Director of Operations reached out to our Smart Connect Team for some help. Her ask was simple - who on our team is crafty and could follow the simple tutorial on YouTube to make masks for staff who are out in the field. Smart Connect Team Member, Chrystal Gass knew her mom had a sewing machine, so she called her to see if she could borrow it. She gathered up some leftover fabric she had, as well as other needed supplies, and then reached out to her daughter Hannah for her help. Hannah had been recently laid off from her job due to the Coronavirus (COVID-19), and Chrystal knew she was a pretty crafty girl. Chrystal and Hannah, after a quick lesson on the sewing machine and watching several videos on YouTube on how to make the masks, they got to business. Over the next two days, Chrystal and Hannah made 18 masks for our delivery drivers, equipment installers and some Field Service Engineers.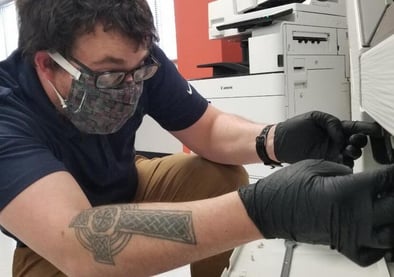 On Friday, Chrystal ventured out of the house and delivered the masks to the Logistics Manager, who quickly distributed them to the team. All of the team was incredibly thankful for Chrystal and Hannah for taking time out of their days to make the masks that help them stay safe out in the field. Logistics Manager, Matt Reeser stated, "At Fraser, we are all like a big family. When the call went out to see if anyone could help with masks for our guys, the team really stepped up for us. We all appreciate that the staff working at home understands that there is risk for our delivery people out in the field." Director of Operations Juleen Bixler said, "One of Fraser's Core Values is Do the Right Thing. I knew in reaching out to my staff that they'd step up to help protect our delivery guys. It's just the culture of our company."
So if you're getting a delivery soon, know that our delivery people will be outfitted with their new masks and working hard to stay safe and healthy. If you're interested in learning how to make masks for your own staff or to donate to first responders, check out this easy tutorial! We all express a huge debt of gratitude for Chrystal and Hannah for their hard work for our staff. You are an outstanding example of our Fraser culture.