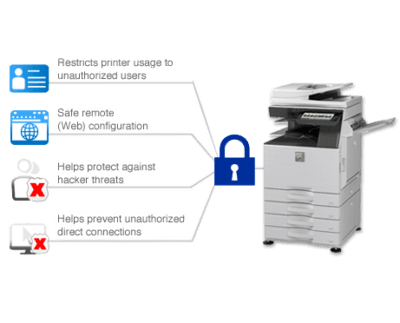 When talking about security, most people understand the need for antivirus software and VPNs to protect computers and networks from potential attacks. Have you ever considered your office MFP or printer being susceptible? In this blog post, we'll discuss how to protect your MFPs and printers from falling victim to a cyber attack.
About a year ago, CyberNews wanted to prove a point about the vulnerability of printer security, so they hijacked nearly 28,000 unsecured printers to show just how easy an attack through a printer or MFP can be. Through a simple search on IoT search engines, they found over 800,000 networked printers that they could gain access to over the internet. CyberNews wasn't malicious in their experiment. In fact, they provided those printers that they accessed with a handy guide on how to secure their printers. But that was a rarity. Hackers looking to gain access to your company data are looking for a point of entry, and your MFPs and printers are a prime target.
Now let's take a look at your own office. Think about the ways in which someone may access your MFPs or printers. It likely doesn't seem like a very long list. Talk to your IT person or a managed IT services professional, and you'll soon begin to realize there are several common practices that could potentially increase the likelihood of threats to your organization through printers and MFPs. These include:
Leaving data on the hard drive of an old MFP or printer when trading it in or disposing of it
Leaving network connections unencrypted or unsecured
Employees printing confidential documents and leaving them in the printer tray
Employees scanning or copying confidential documents and leaving the original copy in the device
Not changing login passwords regularly, or not even changing the default passwords
Unauthorized inbound or outbound email access with a printer or MFP
Unprotected access to a device from a mobile device or cloud service
Given all these vulnerabilities that can exist, how can you protect your business from an attack either in the office or while working remotely? With a reputable dealer like Fraser, we will work with our clients to teach them how to use the correct security settings or implement security policies. It is our job to stay current on cybersecurity threats, and we can provide employee training, protection tips and recovery plans should data be compromised. Get our handy checklist to help you mitigate threats against your MFPs and printers here.
It is also critical that your business properly manages its endpoints and resources in order to protect data and your network. This includes downloading the latest updates for devices and having a continually evolving disaster recovery plan. Fraser can work with companies of all sizes to provide managed IT services to handle these necessities, either as an extension of your IT staff or as your sole IT provider.
While ensuring your devices and software are running on the latest versions and your endpoints are managed, it is also imperative to train your company employees about safe use of network devices. This includes cybersecurity training on the latest phishing and ransomware methods, being able to spot threats before they become an issue and the importance of collecting confidential documents from printers and MFPs. Employees serve as the first line of defense against cyber incidents.
With all of the cybersecurity risks facing businesses today, having the right tools and people in place to keep your company safe is key. Partnering with a security-minded organization like Fraser now can help you save big headaches down the road. Don't forget to download our MFP mitigation checklist today.