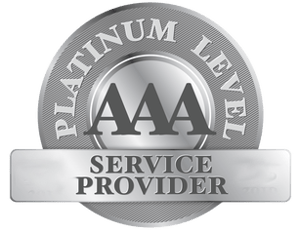 Fraser Advanced Information Systems is pleased to be named a AAA Rated Platinum Level Service Provider by Sharp Imaging and Information Company of America (SIICA), a division of Sharp Electronics Corporation, for its outstanding levels of achievement in critical areas of service delivery. The Platinum Level Service program recognizes and rewards service organizations for exceeding performance benchmarks and implementing industry best practices.
In order to qualify for this prestigious award, dealers must show excellence in the following critical areas of service delivery:
Using genuine Sharp parts and supplies
Commitment to training
Use of remote diagnostic technology, and
Timely updating of call tracking tickets
The AAA rating is the highest level of achievement a dealer can obtain. This is the third year in a row Fraser has received a AAA Platinum rating. Out of more than 400 Sharp dealers in the United States, Fraser is one of only 12 to be given this notable distinction.
As a Platinum Level Service Provider, Fraser has demonstrated superior customer support by ensuring that all reasonable efforts have been made before opening a support ticket with Sharp's technical hotline, timely updating tickets, and leveraging remote diagnostic technologies. In addition, Fraser has delivered consistent performance and quality by only using genuine Sharp parts and supplies.
"It is an honor for us to receive the Sharp AAA Platinum Level Service Providers Award," said Jim Pierce, Chief Operations Office at Fraser. "We are proud to work with Sharp products, which are among the most valuable in the line-up that we offer. Fraser is dedicated to providing an unprecedented customer experience with best-in-class technicians and knowledgeable sales personnel that make sure that each model purchased perfectly fits the client's needs."
You can learn more about our service offerings by visiting our Global Support Center page.