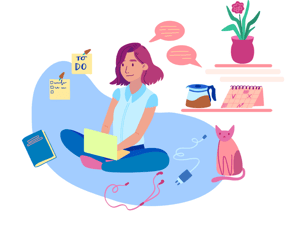 Remote work or work from home has become one of the new buzzwords since the COVID-19 pandemic began. But even prior to Coronavirus, an OWL Labs study found that 62% of full-time workers in the United States do so remotely with some frequency. With the social distancing practices that the Centers for Disease Control (CDC) and the PA and NJ Departments of Health recommend to reduce the spread of COVID-19, remote work isn't likely going anywhere anytime soon. Companies want to keep their employees safe, healthy and productive.
Work from home can introduce several challenges to companies that haven't ventured down that road before including:
Do employees really work when they aren't in the office?
What security measures do you need in place to protect devices outside of the office?
How do you have meetings and maintain a cohesive team when nobody is in the same place?
Interestingly, all of these challenges have a solution with the use of software. Below we'll outline five software solutions to meet your remote work challenges that will keep your teams running smoothly and efficiently.
Time Card and Attendance Software. When you take typical on-site workers and move them to a remote work setting, you will need to have ways to track their time. This can be done fairly easily with a cloud-based time and attendance system. This type of software allows employees to punch in and out electronically via their computer or on a mobile app. Many of these software packages give you notifications if a worker deviates from their regular schedule and rules. If your business includes field workers, some attendance software options have GPS tracking that allows you to see where the worker is punching in from. And while some of these types of systems can be bulky and costly, there are several free options available.
Video Conferencing Software. Many people believe that if workers aren't in the office together, the team aspect that keeps ideas fresh and innovative can slip. But workers don't need to be in the same location to connect. Video conferencing software allows employees to work in any location and have face-to-face interactions with other employees and clients. Many of these types of software packages allow users to share screens, share documents and record sessions.
Endpoint Security. A major challenge of a remote workforce is maintaining security of your business's systems and data. An endpoint security solution manages what, when and how a device can gain access to on your business systems and the internet. Devices can include laptop computers, tablets, smartphones and the servers that they connect to. These devices are all examples of endpoints, and endpoints provide the easiest access for cybercriminals to implement malware attacks and viruses and to gain access to sensitive information. With endpoint security software, your IT department or your Managed IT Services Provider can easily manage software patches and installation, control device permissions and implement web security options for employees. It will also allow you to track and manage endpoint security in real-time.
Collaboration. Being able to collaborate and interact with colleagues is key to innovation and teamwork. With a collaboration software package like Microsoft Teams, your teams can share status updates, chat with teammates, work on documents together in real time, share files and even have a remote happy hour! A solution like Microsoft Teams allows users to take their conversations from chat messages to face-to-face with the Calls feature quickly and easily.
Project Management. With workers scattered at their homes, sometimes it's difficult to know who has done what on a project. With project management software, users can assign tasks, set due dates and assign priority levels to tasks. This provides an easy-to-read method to keep everyone on task so you meet your deadlines. Managers can set alerts to receive notifications when deadlines are missed so they can ensure projects stay on task.
While eventually the restrictions in place on businesses will be lifted, and they will be permitted to open their doors again, it will likely be with social distancing restrictions in place. Systems such as those listed above will allow employers to keep their workers safe and productive, even when working outside of the office.
If your business is looking for ways to make remote work effective and keep your systems safe, Fraser's Managed IT Services group can help.