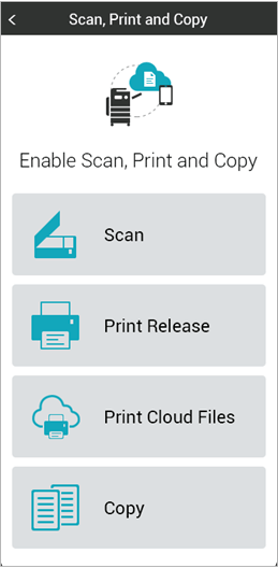 As businesses welcome workers back to their physical locations, ensuring that they are safe and healthy is of the utmost concern. Companies are employing practices that limit direct and indirect contact points (people and physical things), limit large gatherings, and switch to virtual meetings. They may have reconfigured office layouts to create safe distances from other colleagues and opted to develop staggered schedules for workers to have fewer people in the workplace at one time.
When it comes to your shared copier or MFP, you may be concerned about the number of people who use the device in a single day and how many times different employees are touching the control panel. While all manufacturers have offered specific cleaning instructions for disinfecting devices, ensuring employees follow these procedures after each use is a daunting task. Using the copier doesn't need to be an area of concern if you have the right tools, and that's where Sharp and Synappx Go™ come into play.
Nearly everyone today has a smartphone and utilizes apps to handle simple and complex tasks. With Synappx Go™, employees use their smartphone to enable contactless, convenient and time-saving sharing of information on Sharp MFPs and displays throughout the office. So just how does Synappx Go™ work? The phone-based app uses Near Field Communication (NFC) tags to gain access to the MFP. With just a tap of the NFC tag with your smartphone, you can gain access to all of the MFP functionality, including:
Touchless copy, print, print release and scan.

Touchless cast and edit documents from cloud storage to the Sharp display.

Directly print documents from cloud services when you need them.

Scan documents to your email, a group of people or select cloud storage.
By using smartphones, employees can feel comfortable using their already-familiar smartphones to adapt to the procedure change.
Synappx Go™ isn't just for using your copier, however. It helps collaboration happen anywhere and anytime with enabled displays. Simply walk up to your Sharp display device, tap the NFC tag, and you can share your screen content on your large Sharp display. Your team doesn't just need the conference room to hold meetings, but can use a huddle area or even a cafeteria! Lots of places can become collaborative workspaces with a Sharp display, your smartphone and Synappx Go™. Your team members can also tap to retrieve content and collaborate, and modified content is saved back in the original locations.
As always, security is the number one priority for Fraser and Sharp. With Microsoft Azure, Microsoft 365 and G Suite technologies and security best practices, Synappx applications and services are protected by a layered security system.
Through the end of November, Fraser and Sharp are pleased to present a special offer. Purchase or lease a Sharp Advanced Series A3 MFP and receive a FREE one-year Synappx Go™ subscription for ten users! You will also receive a FREE Amazon Echo Dot and Mount for your Sharp device so that you can take advantage of Sharp's MFP Voice feature that allows you to control your device with simple verbal commands.