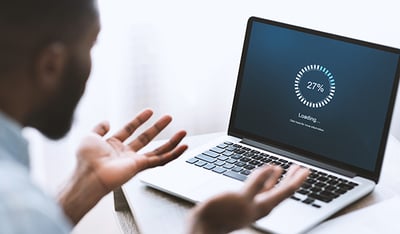 When used effectively, business technology helps small and medium-sized companies develop a more efficient and innovative workforce. According to an Adobe Digital Trends Report, businesses that prioritize technology are three times more likely to outperform corporate goals. In a business world that's constantly evolving and changing, your company needs technology solutions to perform at their full potential.
Technology can improve:
Time and cost-efficiency
Customer experience and support
Management of critical resources
Communications
Marketing
Decision making
However, even the most cutting-edge technology can experience the occasional hiccup and slow you down if you don't keep up with regular updates and support. Performing an annual technology refresh can help you avoid this altogether.
A technology upgrade is a process of replacing technology components regularly by evaluating their ability to integrate with other infrastructure components and obsolescence, rather than waiting until the outdated element becomes the most significant impediment to achieving your company's vision.
A technology upgrade is critical because maintaining legacy infrastructure components comes at a cost. Outdated technology can:
Reduce overall productivity
Cause employee frustration that could lead to the loss of your most valuable staff
Negatively impact daily operations and budgeting due to the high cost of maintaining outdated systems and components

Watch out for these signs
Is it time to update the technology at your company? Keep an eye out for these six signs below:
1. Slow system performance
Slow systems take up a lot of an organization's valuable time. This could happen because of a failed integration, a virus or not getting proper updates. Get back to peak performance by finding and fixing the problem as soon as possible.
2. Seeing pop-ups that look suspicious
Pop-ups that look suspicious usually tell users that their system is open to a security threat or technical problem. Then, cybercriminals take advantage of worried users who want to keep their systems safe by demanding money to fix issues and eliminate dangers that don't exist. One of the best ways to keep these bad actors away is to update and refresh legacy systems immediately.
3. Random system shutdowns
Systems often shut down to install important updates. But if the shutdowns happen often and are hard to predict, a problem needs to be fixed. Random shutdowns can be caused by several things, like a faulty power supply, a virus or malware or corrupted files. However, they could also signify that the system needs to be updated or refreshed.
4. Connection issues
When the internet goes down in the middle of an important task or meeting, it can be annoying, but what if it happens often? It could mean a problem with your system that needs attention. If updating your software doesn't fix the problem, it might be time to start fresh.
5. Your systems, software and technology don't work well together
Integration is vital for businesses today because the technology landscape is changing so quickly. Companies may need to get solutions from more than one vendor. This means any part of your company's technology that doesn't work with the rest of the infrastructure needs replacing.
6. Your system seems crazy
You may have experienced tabs that open and close on their own, random windows that pop up on your desktop and files getting downloaded without your knowledge. Before you call the exorcist, you may want to try resetting your system. Unpatched systems or those not updated correctly may act in strange ways.
The best way to move forward is to work together
Technology problems can be frustrating, and it can be hard to figure out how to solve them on your own. Start updating your technology with a partner like Fraser. Knowing that experts are taking care of the process gives you peace of mind and lets you focus on growing your business. Click below to schedule a free tech upgrade consultation.
To learn more about what a tech upgrade entails, download our informative eBook titled "6 Factors to Consider When Refreshing Your Technology Infrastructure."