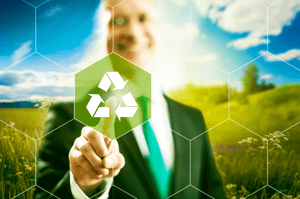 Think about the amount of paper and toner your office uses in a week, a month and a year. It's sometimes crazy to think the amount of this stuff an office can use. Many companies are seeking a way to give back to the environment, and with Green Solutions at Fraser, it couldn't be easier!
Fraser's Toner Recycling Program
The average laser cartridge from your printer or multifunction device that is discarded in your regular trash and taken to a landfill can take upwards of 450 years to decompose. Some components that are made with industrial grade plastics can last upwards of 1,000 years! We all want to do our part to protect the environment from these types of wasteful items, and with Fraser's Toner Recycling Program, it's EASY! Fraser customers can opt-in to receive pre-paid shipping labels and packaging that is used to return toner cartridges for recycling. Larger options are available for larger enterprises. All customers who participate in our Toner Recycling Program will receive a report and certificate detailing their savings.
PrintReleaf
Fraser Advanced Information Systems is pleased to offer the PrintReleaf Program. PrintReLeaf is a platform for automated global reforestation. Through the program, PrintReleaf measures your company's paper consumption over time and calculates how many trees were deforested to harvest your paper footprint. Based on that calculation, trees are planted at reforestation projects to replace your paper footprint. Reforestation sites are located throughout the world, and customers may select where their efforts are targeted. As time goes on and you plant more trees, you accumulate efforts and can achieve certification as a PrintReleaf Global Forestry Partner. This program is verified by leading print and forestry experts and audited by through a third-party verification process by SGS International.
No matter what you choose with regards to the environment, Fraser can work with your company to build a Green program that you can be proud of.