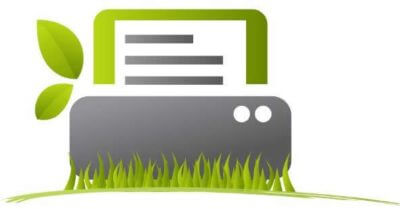 For the last 49 years, on April 22nd, Americans celebrate Earth Day, the holiday meant to increase environmental awareness and inspire the public to move towards greener living. While you may recycle your plastic bottles, newspapers and glass at home, have you given thought to ways that you can be green at work? Green printing is easier than you think with managed print services, and with a little work, you can do a lot for the environment. Here are some tips to help your business move towards a greener impact
Print on both sides of the paper. Seems pretty simple, no? You can set up your printers to automatically print double-sided or duplex, and this can make a big impact on your green initiative. By setting your print environment to print duplex, you could use up to 50% less paper! That's no small impact!
Print in black and white. Who doesn't love a vibrant color print? But there is a time and place for that, and it isn't when you're printing out documents that don't even have color! So when you're printing documents, make sure to select grayscale or monochrome printing. This ensures you aren't using color toner on black and white documents.
Share a printer. Isn't that little printer on your desk so convenient? Of course, it is, but it isn't really environmentally friendly. By utilizing networked print devices, you can save energy usage by downsizing the number of printers you have in use at one time!
Use EnergyStar certified devices. EnergyStar certified products aren't new, but they do provide great innovations when you're looking for green printers. When printers are EnergyStar certified, they'll be marked with the blue star logo and will feature great ideas such as advanced sleep modes to save power when you're not in the office.
Bigger is sometimes better. When you think of a multifunction device, you're thinking about a big clunky copier. And yes, they're bigger than the small laserjet printer, but with copying, printing, scanning and fax in one device, you can actually save space in the office! Switching to an MFP will result in less energy consumption and in turn save you money!
Utilize those eco-friendly settings. If you want to ensure green printing practices stick at the office, make it automatic. Set all of your devices in the print fleet to environmentally-friendly settings. This ensures you make the biggest impact!
Recycle printer cartridges. All of your used printer cartridges can be recycled, and with Fraser's Green Recycling Program, it couldn't be any easier!
With all of these simple steps, your office can truly make reduce the impact your business makes on the environment. For more information on how you can take advantage of green printing practices, contact us today.