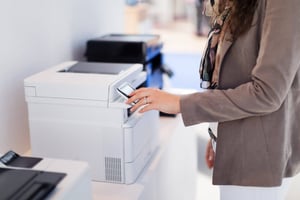 You've decided it's time for a new office printer. Regardless of the why, before you begin looking for your new printer, take time to consider your office environment and its needs to help ensure you choose the right device.
Having a clear understanding of what you expect from a printer and what type of work you will be doing with it will help you decide the type of device that best suits your needs. Are you only going to print documents to be used in-house, or will you produce high-quality documents to be shared with clients and prospects? How about the approximate volume of your outputs and number of employees using your new machine? Do you just need a device that prints, or would you benefit from a multifunction printer (MFP) that includes scanning, copying, and faxing capabilities as well?
It's also important to dig deeper and consider things you likely didn't have to the last time you shopped for a printer, such as whether you have an agile, mobile-centric business environment that would find mobile or wireless printing invaluable. Before you choose a new printer, put the time in to thoroughly evaluate your unique workplace and its printing needs.
For more information on printers and MFPs, contact us today at sr@fraser-ais.com.