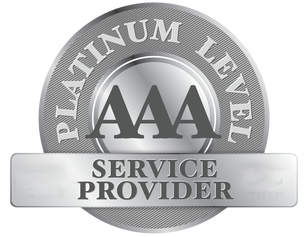 Fraser Advanced Information Systems is pleased to be named a AAA Rated Platinum Level Service Provider by Sharp Imaging and Information Company of America (SIICA), a division of Sharp Electronics Corporation, for its outstanding levels of achievement in critical areas of service delivery. The Platinum Level Service Program recognizes and rewards service organizations for exceeding performance benchmarks and implementing industry best practices. Fraser is one of only 19 Sharp dealers across the country who have completed this level of service to be honored.
In order to qualify for this prestigious award, dealers must show excellence in the following critical areas of service delivery:
Using genuine Sharp parts and supplies
Commitment to training
Use of remote diagnostic technology
Timely updating of call tracking tickets
This AAA rating is the highest level of achievement a dealer can obtain as an authorized service provider for Sharp. This is the fifth year in a row Fraser has achieved a AAA Platinum rating.
To earn this certification, Fraser has completed the following:
75% of our technicians are certified for all current models of MFPs through Sharp Academy and/or Sharp 3T training offerings.
Have at least one NET+ certified (or similar network certification) technician to handle connectivity issues
Have at least one technician pass the Fiery Presentation course on Sharp Academy
Have a written call escalation procedure for technicians who visit customers onsite
Have all Sharp technicians complete the Customer Interactions training course on Sharp Academy
Have at least one technician obtain Fiery Pro Service Certification
Use only Sharp parts and supplies when providing service to ensure consistent performance and quality
"It is an honor for us to receive the Sharp AAA Platinum Level Serve Provider Rating," said Blake Bossler, Director of Service and IT Engineering at Fraser. "We are proud to work with Sharp products, which are among the most valuable in the line-up that we offer. Fraser is dedicated to providing an outstanding customer experience with best-in-class certified technicians and knowledgeable sales personnel. This ensures that each model leased or purchased by clients fulfills their needs."
Congratulations to the Fraser Service Team on receiving this prestigious honor.