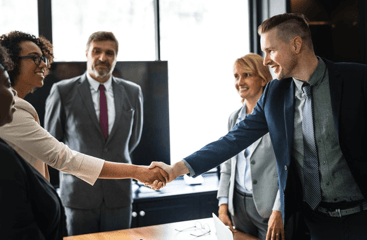 With 2019 fading quickly, 2020 could be the perfect time to refresh your copiers. This is a task many IT directors and managers dread. It is important to select the right partner when purchasing or leasing a copier. They can be incredibly helpful in selecting a new device to meet your company's needs, and for the next few years, they will be providing you with service when you have an issue with the device. Many people believe all copiers and dealers are the same, but with a little research, you'll see that copiers and their dealers are very different from one another. Here are 12 things you can ask to help you find the right dealer for you.
Does your dealer take the time to understand your business needs? Your copiers and printers are a large investment for your business. They need to match the needs of your business. A good dealer will take the time to discuss with you what your business goals are, and then match those goals with the right equipment.
Does the dealer offer a range of well-known brand products? Dealers that offer a wide range of equipment, whether from one or multiple manufacturers, will be able to provide you the right devices for your needs. They will be able to lay out a plan for all of your print devices and fit your business with equipment to help you reach your objectives.
Is the dealer an authorized dealer? Authorized dealers have access to many benefits that unauthorized dealers don't like ongoing product training and an established and well-nurtured relationship with a manufacturer. With knowledge and training, you will be able to get better service at a better price.
Can the dealer keep you stocked with supplies? There is nothing worse than being in the midst of printing a large, urgent job, and you run out of toner. Keeping track of toner for all of your devices is no small undertaking! A great dealer will be able to provide an automated toner replenishment program that monitors your toner levels and sends you supplies BEFORE you run out.
Are the dealer's service technicians factory-certified? At some point, your devices will require service and/or repair. Just like your car, a copier requires maintenance to keep running at optimal levels. When service or repairs are necessary, you will want a factory-certified technician to be working on your equipment. Ask if the dealer's technicians are factory-trained, how much and how often do they receive training and how experienced the technicians are.
Does the dealer focus on YOUR uptime and resolve issues quickly? A good dealer will track your service metrics and strive to improve upon them. At Fraser, we measure several important service metrics to ensure we're providing the best possible service to our customers. You can see those metrics here at the bottom of the page. You will also want a dealer that has parts and supplies on hand at all times. Without adequate parts and supply inventory, delays in fixing device issues are likely to be greater. Fraser service technicians have more than $7,000 worth of parts in their company vehicles, and our 30,000-square foot warehouse houses an extensive inventory of supplies and parts. This means that calls are fixed the first time the technician visits.
Does the copier dealer focus on doing the job correctly instead of quickly? Many times, a copier dealer will provide incentives to technicians for completing as many jobs as possible in one day. This can often lead to poor repairs and a lack of adequate preventive maintenance. When Fraser dispatches a technician, they are trained to do the job correctly as well as to address all maintenance issues while on premise. This means our technicians are 100%-focused on the job they are tasked with and are not rushing to get to the next call to meet an incentive.
Does the copier dealer provide any product training? Today's copiers do so much more than copy, but most people aren't aware of all that their device can do. To help you get the most out of your investment, the dealer should provide you with full user training. This includes an overview of all major functions including copying, printing, scanning, faxing and document management. They should also be able to show you how to fix minor issues such as replacing paper or staples. If you need more training, you should be able to contact the dealer to set up a refresher.
Does the copier dealer provide other services that are a fit for your business? Many dealers today aren't just copier dealers. They offer additional valuable business services including managed IT services, managed print services, telecommunications, document management, digital displays, cybersecurity and more! Consolidating of services to one vendor can really help you develop a true partnership with your technology vendor to streamline your business.
What financing options are available from your copier dealer? In more than 90% of cases, a business doesn't want to purchase a device outright. It is important to make sure that leasing options are available. This will give you the greatest flexibility to add new equipment as you grow and provide you with predictable monthly expenses over time versus one large capital expenditure all at once.
Can the copier dealer help with other parts of your printing? Often times, businesses don't have just one copier, but an entire fleet of devices in their print environment. For small to mid-size businesses, having internal IT staff managing copiers and printers is not the best use of their time. Ask the copier dealer if they have a managed print services program that can be utilized to manage all of your print devices. This puts your IT staff back to focusing on what's important for your business.
AND MOST IMPORTANT, does the copier dealer have happy customers that you can speak to? Any good copier dealer will have references that you can contact to discuss their experience working with them. It's important to find out if the dealer has a good reputation for honesty and timely service. A dealer may offer a cheap price that initially looks good for your bottom line, but when you need service, they may nickel and dime you for parts and labor or not show up at all. Look for a copier dealer that is invested in its clients' success. A good dealer will also solicit feedback from their customers so they can learn what things they do well and what areas they need a little more focus on.
This may seem like a daunting list, but these questions will help you work to get the best dealer that can meet your needs and help your business grow. At Fraser, we are always available to answer your questions and see how we can help make your ordinary office SMART!