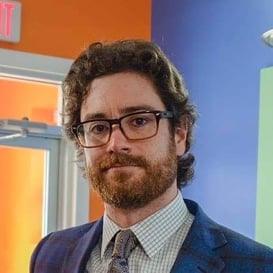 Fraser Advanced Information Systems is pleased to announce the appointment of Daniel Fraser as their new Chief Innovation Officer. In this newly created role, Daniel will focus on organizational innovation through technology. He is responsible for maintaining the organization's technology strategy, defining requirements of new technology implementations and communicating these initiatives to stakeholders.
As the organization's champion of technological change, Daniel will be tasked with managing:
Research of new technologies, tools and management methodologies
Implementation of new omnichannel customer experiences
Company-wide initiatives with demonstrated technical sophistication and design thinking
A culture focused on vision and imagination
Before his return to Fraser, Daniel served as the Chief Operating Officer and Co-Founder of Copy Desk. This joint-venture start-up created a frictionless online buying experience for purchasing copiers online. During his first tenure with Fraser, Daniel Launched and led Fraser's 3D printing initiatives, guiding a team of engineers and sales professionals in one of the first of its kind ventures at an office equipment dealership.
"I'm excited to join Fraser's already strong management and leadership team and look forward to growing the business. Having been mentored by a Silicon Valley CEO and worked at a rapid growth SaaS business, I bring a unique perspective and skillset to complement Fraser's strong offerings. In addition to helping the team with technology best practices, I will also use Fraser as a springboard for rapidly developing new services and user experiences with the help of no-code and low code tools. Fraser's innovative, growth-focused culture is a natural fit."
Fraser Advanced Information Systems is a leading provider of business technology solutions for more than 50 years. With clients in all types of industries throughout the Mid-Atlantic region, Fraser helps companies digitally transform their businesses through the Internet of Things and Fraser's Smart Tool Set™. More choices, better solutions for your business - that's the Fraser difference.