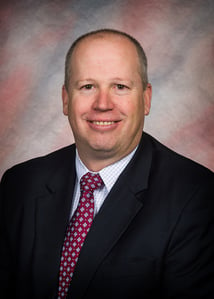 Fraser Advanced Information Systems is pleased to announce the promotion of Michael Macri to the role of Director of Sales. Prior to his promotion, Mr. Macri served as a Branch Sales Manager in Fraser's Bala Cynwyd office, managing a team of eight account executives and developing new talent in the sales force.
In his new role, Mr. Macri will oversee the management of all regional and branch sales managers to achieve and exceed sales quotas. This includes account executives from Fraser Advanced Information Systems and our IT services company, ImagEze. He will manage and oversee the sales operations of the organization. This includes designing plans to meet sales targets, developing and cultivating relationships with clients and evaluating costs to determine their products' pricing when selling to customers.
"Michael's experience in the business technology industry and expertise as our Branch Sales Manager in Bala Cynwyd has produced fantastic results," stated Melissa Confalone, Vice President of Sales. "I am confident that Michael will work tirelessly to assist our regional and branch sales managers to reach a higher level of success and coach new managers and account executives to become successful in their roles."
Fraser Advanced Information Systems is a leading provider of office technology solutions and business process automation for over 50 years. With clients in all types of industries throughout the Mid-Atlantic region, Fraser helps companies digitally transform their businesses through the Internet of Things and Fraser's Smart Tool Set™. Through artificial intelligence and our Global Support Center based in our West Reading headquarters, Fraser can remotely manage the business processes and equipment of our clients - from copier meter readings to supply replenishment - via the cloud. We provide services in managed print, software solutions, cybersecurity, IT and network support, unified communications and business phone systems and audio/visual solutions including video conferencing and more. Fraser is pleased to be an authorized vendor of sophisticated office equipment from leaders including Sharp, Canon, Lexmark, Muratec, KIP and HP.