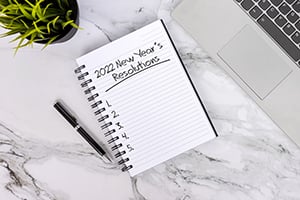 As we ring in 2022, many will begin the annual tradition of making new year's resolutions. Whether it's losing weight, quitting bad habits or finding ways to improve your mental health, new year's resolutions are a great way to kick off a new year. Have you considered making some new year's resolutions for your business? With cybersecurity at the top of the list of things that keep business owners and executives up at night, what could be more helpful than finding new ways to make your business more secure from a cyber attack? Here are seven smart cybersecurity new year's resolutions you can implement to help improve your business cybersecurity and keep your data safe.
Get multifactor authentication for critical business systems. Compromised passwords and credentials are among the most common ways that bad guys can get your data, identity, and money. With multifactor authentication, you utilize two or more methods to confirm your identity. These typically include:
Something you know, like a password or memorized pin
Something you provide, like a smartphone or secure USB key
Something you are, like a fingerprint or facial recognition
Using a combination of these items, you can verify your identity securely and keep your data safe.
Implement a quarterly security awareness training program. An educated, informed staff is one of the smartest ways a business can protect itself against a cyber attack. Providing ongoing, consistent security awareness training allows your employees to identify potential cyber threats and report them to the proper staff to handle. This type of training is not a one-and-done module - to be truly effective, you must provide training on an ongoing basis. New threats pop up every day, and the goal with security awareness training is to keep your employees on top of threats that may affect them at work.
Conduct frequent phishing simulation exercises companywide. After you equip your employees with how to spot cyber attacks, it is important to put those new skills to the test. Having frequent and unannounced phishing simulations creates realistic situations that employees may encounter and see how their skill set measures up to deal with them. This also will give you important feedback on what types of things your future training should focus on.


Review industry compliance guidelines and make sure you are compliant. Every industry has compliance guidelines they have to follow, and new guidelines come out every year. It is critical to know what those guidelines are and ensure your business complies.


Add dark web monitoring to your cybersecurity strategy. Dark web monitoring allows you to detect compromised employee credentials involved in a data breach and made for sale on the dark web. This allows you to take quick action to avoid your data breach. You can continuously monitor the dark web for breached credentials and change credentials to avoid possible data breaches with this type of service.


Get a reliable VPN service to ensure data is protected during remote work. With the onset of the COVID pandemic, many businesses had to scramble to get workers up and running at home. A reliable VPN

provides your business with a securely encrypted connection to your network over the public Internet. It adds an important piece of layered security, essential to protect your data. Using a VPN allows you to remotely access important network resources and connect your company's branches and locations worldwide.




Set up an appointment with a respected Managed IT Services provider. Despite having an internal IT department or even an IT guy, working with a respected and reliable Managed IT Services provider can greatly impact your cybersecurity strategy. They provide expertise with all of the items we've mentioned above and can work with your business to create a plan to keep your business safe and secure. Clearly, it's not a matter of if, but when will a business experience a cyber attack. With a Managed IT Services provider, like Fraser, you can rest easy knowing you are working with a Managed IT leader.
Fraser's Managed IT Services group is ready and able to work with businesses in all sorts of industries to create cybersecurity strategies that provide you with all of the security measures your business needs.