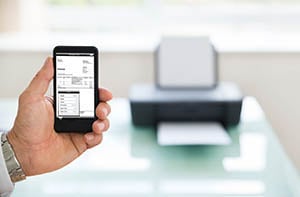 As states continue to reopen in one fashion or another, COVID-19 is still a reasonable concern to many people. Employees returning to their physical work locations will be looking for ways to remain safe and healthy. One thing many employers are aware of is that there are a lot of high-touch surfaces in the workplace. Whether it's the coffee pot in the kitchen or the door handles on entrances, everyone is looking to be sure they are being safe. One area where Fraser can help is with your printers, copiers and MFPs. There are several ways to make the copier a contactless device that keep employees from using their hands to operate one of the highest-touch devices in the office.
The typical MFP, printer or copier in the office has buttons and touchscreens that the average worker touches 3-5 times a day. If you're in a company of 100 people, that's 300-500 touches a day on the device. While your printers, copiers and MFPs may seem minor, any way we can avoid interacting with high-touch areas is going to be helpful. We all know that eventually this pandemic will end, but this situation has really changed the way a lot of people go about their daily lives and tasks. Below are several ways that you can move towards contactless printing solutions for your workplaces.
For Sharp Device Users
Sharp offers several ways to limit unnecessary touches to the MFP.
Sharp MFP Voice with Alexa

- We have talked about this feature before, and when it launched, it was a nice to have. In the midst of a pandemic, it moves to a need to have. Sharp Essentials and Advanced Series devices are all equipped to operate with Alexa out of the box. To utilize the feature, you will need an Amazon Echo device that is connected to the network of the Sharp device. with just a simple command like "Alexa, ask Sharp Copier to make 2 copies," you're up and running without touching the device.
Sharpdesk Mobile - Sharpdesk Mobile is the mobile app that allows you to print, scan and share documents all from your mobile device. This mobile app is FREE to download in the App Store for Apple and in the Google Play Store for Android. With the app, you do not need a separate print driver. Just download the app, scan your network to find the nearest Sharp device and you're ready to print. Select documents from your device or from a cloud app and print directly to your supported Sharp MFP. Capture hard-copy documents to your mobile device in PDF format by simply scanning the document from your Sharp MFP. Once scanned, you can share the document via email or other applications. You can also send the document to other applications, as Sharpdesk Mobile allows seamless file management with other applications. Most importantly, Sharpdesk Mobile is designed to help corporate IT minimize security risks while providing productivity for users. Through security features including user authentication, IT can minimize unwanted access to corporate network resources.
Sharp Remote Device Manager - With Sharp Remote Device Manager(SRDM), IT administrators and Service Providers can easily manage and monitor their Sharp MFPs. Through an easy web console that can be accessed on a computer or your mobile device, IT administrators can remotely manage and configure Sharp devices on their networks, monitor device statuses and expedite troubleshooting. For service providers, SRDM allows a cost-effective way to remotely monitor a customer's devices and handle tasks like firmware upgrades and remote service without having a technician visit from outside the building.
For Canon Device Users
Canon PRINT Business App - With the Canon PRINT Business App, users can easily utilize the normal functions of their devices including print, scan and sending when used on imageRUNNER ADVANCE, imageRUNNER, imageCLASS and imagePRESS devices. The FREE mobile app is also available in the App Store for Apple and the Google Play Store for Android. Users can not only print and scan from their mobile devices, but they can also access documents from cloud storage including Dropbox, Google Drive and iCloud. To print from the cloud, simply select the location from which you'd like to print your document in the Canon PRINT Business App, select the file you want to print, preview the document and then tap the printer icon and confirm your printer settings. Scanning is as simple as placing your document in the document feeder and then following the prompts on your mobile device.
Canon Remote Operations Viewer - With Canon Remote Operations Viewer, you simply will download the Remote Operations software from the Canon website to your Windows PC. Once installed, you will configure the software with an IP address or domain name of the device you want to operate. From there, you will see a display of the copier's front panel on your computer screen and be able to utilize all of the functionality without having to touch the device's touchscreen or buttons.
For PaperCut MF Users
PaperCut Mobile Print Release - With PaperCut MF, many organizations have realized the power of managed print services. PaperCut also offers Mobile Print Release that leverages the technology that almost all of us take advantage of- our mobile phone. Through the use of QR codes, users simply scan the QR code on the sticker on the printer, and then users must authenticate if they have not already done so. This will launch a mobile browser window that shows a list of their current print jobs in their queue. The user simply taps the Release button, and the jobs immediately print.
As you can see, there are numerous options that you can utilize, no matter what Fraser partner you're working with, to safely use touchless printing. To get further information on touchless printing, click the button below and submit the accompanying form. Our Global Support Specialists and Account Executives are ready to help you implement this important technology.