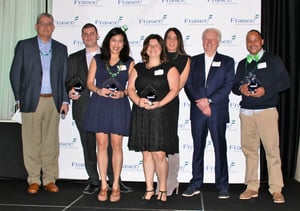 On Saturday, March 17th, Fraser held the Annual Awards Dinner Celebration for all of our employees. Each year, Fraser honors our employees who excel in service, sales, customer service, managed IT, logistics, administration, global support and many other areas of the company.
Our third group of award winners are our Fraser Star Awards. Star Award winners are selected by the management team at Fraser. These awards are given to those in customer service, Global Support, administration, logistics and IT support who excel in all aspects of their position and are integral team players at Fraser. The five top scoring employees in this group are awarded the prestigious Platinum Star Award, and the next highest scoring ten employees receive Star Awards. Without these award-winning employees, Fraser could not be the successful technology partner we've become to all sorts of businesses, government institutions, educational systems, healthcare providers and many others.
Congratulations to all of our award-winning staff who truly live our core values of striving for excellence and displaying a will to win. Your efforts are outstanding.