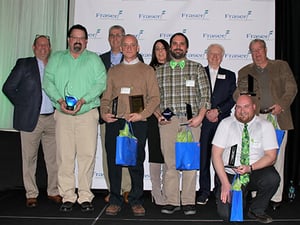 On Saturday, March 17th, Fraser held the Annual Awards Dinner Celebration for all of our employees. Each year, Fraser honors our employees who excel in service, sales, customer service, managed IT, logistics and many other areas of the company.
Our second group of award winners are our Fraser Service Technicians. Fraser Field Service Technicians are where the rubber hits the road when it comes to keeping businesses up and running. Each year, Fraser technicians earn status based on a stringent criteria set by our Operations team. Technicians who meet these lofty goals are awarded gold or platinum level and the highest achieving technicians are named as the Technician of the Year for their branch. We also award the Service Team of the Year to the branch who excels overall as a team and meets these standards across the board. Without these award-winning technicians, Fraser could not be the successful technology partner we've become to all sorts of businesses, government institutions, educational systems, healthcare providers and many others.
Congratulations to all of our award-winning service technicians and to our Service Team of the Year, our Reading Service Group!