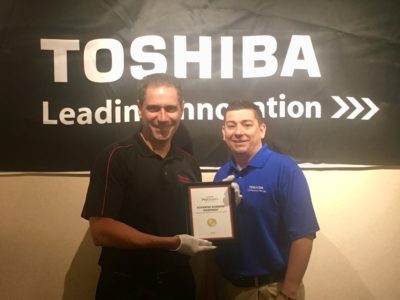 Advanced Business Equipment, a Fraser Advanced Information Systems company, has been recognized as a Toshiba ProMasters Elite Certified Dealer. The award recognizes dealers that provide their customers with superior service and ensure the highest service performance standards for all technicians. It is issued by Toshiba America Business Solutions Inc. (TABS) and was presented to the service management team.
Only 25 of Toshiba's dealers achieve the Toshiba ProMasters Elite status. Award criteria include:
Training metrics ensuring dealers have factory trained technicians.
Call center metrics showing the dealer resolves issues sooner by utilizing their support center.
Service department metrics such as response times, first call effectiveness, and total machine up time.
Service department processes such as escalation policies and loaner programs to monitor machine performance and ensure customer satisfaction.
Cloud connect metrics remote diagnostic tool that allows the dealer to diagnose and resolve issues remotely, thus improving machine performance and up time.
Regional Service Manager Scot Peffer stated, "The Toshiba ProMasters Elite Service Award signifies our dedication to ensuring customer satisfaction not only with our products, but with our staff as well. The service staff works tirelessly each year to stay on top of the latest trends in Toshiba equipment and to utilize that knowledge to provide the best service in the area on that equipment. We are proud to be one of the few dealers to receive this coveted honor."
Pictured is Service Technician Matt Lutte and Toshiba representative John Morello.