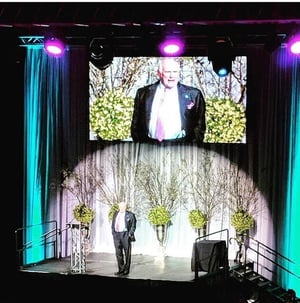 Fraser Advanced Information was recently ranked number seventeen (17) on the Greater Reading Chamber Alliance's 2018 Top 50 Business list. Businesses who applied for recognition were evaluated based on their revenue growth over the past three years and were acknowledged at the GRCA's 105th Annual Dinner on May 31, 2017. This year's event featured Hall of Fame Quarterback Terry Bradshaw as the keynote speaker. His inspiring message of finding the zone in life that brings you joy and staying there resonated throughout his address.
For the past thirteen years, the Greater Reading Chamber Alliance has recognized Greater Reading Chamber for-profit members who experience significant revenue growth. Over that time, the Top 50 Businesses list, issued in May of each year, has become a Who's Who among the County's professional community.
"It's truly an honor to be recognized among such an outstanding group of businesses in our community," said Bill Fraser, President, CEO and Owner of Fraser Advanced Information Systems. "We are very proud of the growth our company has experienced. Through leading with our core value of doing the right thing and our service-focused culture, as well as the hard work and dedication of our staff, we work to continue to achieve the results we've produced over the past several years."