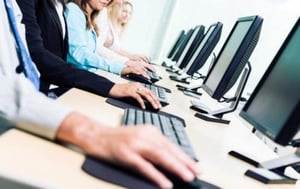 Think about what you do on a daily basis with your MFP. You make copies; you print; you might even scan a document or two. But did you know that the MFP has so many more capabilities to increase productivity in your business? Today's business is focusing on eliminating manual inefficiencies and replacing them with automated digital workflows. With the Internet of Things and your MFP, you have the beginnings of the digital transformation of your business. So what are these magic features?
Follow Me Printing Print from any workstation, laptop or mobile device and then release the job at the MFP or printer of your choice. Follow me print also enhances security by allowing documents to be released when you're actually ready to get them.
Obey the Print Rules Print rules can save you money by allowing you to establish what devices employees can print on, if they can print in color or black and white and more. For instance, one rule you can implement is that all print jobs default to black and white printing, even if you're printing to a color device. Black and white prints are ALWAYS cheaper than color.
Get Rid of Paper - Scan to Email or the Cloud The scanning functionality of your MFP can be used to remove paper from your business workflows. REALLY! Instead of copying a document for your meeting for attendees, scan it, email it to them and have them bring it if they want to. Add documents to your document management system by scanning right to it! Don't have document management? We can help with that! Finally, instead of letting faxes accumulate in the output tray, use the fax functionality of your MFP to direct faxes directly to email inboxes. This keeps your confidential information protected and secure.
Better Document Security Restrict usage and access to documents and workflows on the MFP panel itself with picture logins, PIN codes or proximity cards (ID badge swiping).
Start a Document Workflow Think of an expense report. You have to fill out a form, then print it out. Then attach all of the paper receipts and take it all to your accounting department. Two days later, accounting says you're missing a receipt, and now you're scrambling. Instead, fill out your expense report electronically, and then scan all those pesky receipts and email your expenses.
Using the MFP as a Workstation You go to the MFP to pick up a print job, and on your way you realize that you need two other spreadsheets to go with it. You can retrieve documents from your network right at the MFP. Print them out, and you're ready for your next meeting without having to go back to your office.
Power Management Think that little Energy Star on your MFP is decoration? Think again! Energy Star compliance can make a huge difference in the amount of electricity your office uses. Take advantage of energy management functions included on your MFP - like sleep function - and you can save loads on electricity over time.
Track Costs This one is a no-brainer. You can track the savings you reap from implementing print rules. You can track company, departmental and individual printing patterns to establish a baseline to better manage your printing budget. If you don't measure it, you can't manage it!
The setup and integration of your IT technology environment for many of these capabilities is available through Canon's MEAP platform or Sharp's OSA platform. These systems allow for the development and use of apps that will ensure your MFP is the runway for productivity in your office. And you thought it just made copies...