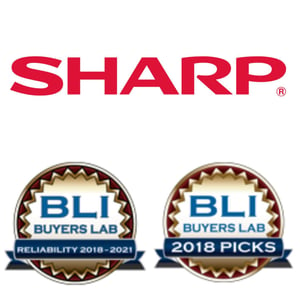 Sharp Imaging and Information Company of America, a division of Sharp Electronics Corporation has been named the Most Reliable Monochrome Copier MFP Brand by Keypoint Intelligence - Buyers Lab (BLI). Presented once every three years, this award honors the manufacturer whose product line is determine to be the most reliable based on combined results of all models subjected to BLI's rigorous testing.
For monochrome reliability, Sharp was the clear choice per Joe Ellerman, Manager of Lab Operations for Keypoint Intelligence - Buyers Lab. "All of the Sharp monochrome copiers we've tested to date have excelled when it comes to reliability," said Ellerman. "Over the past five years, Sharp's monochrome models have completed millions of impressions without a single service call, making them the most reliable choice among their peers."
Sharp also earned the 2018 Buyers Lab "PaceSetter Award in Ease of Use for Enterprise Devices." The PaceSetter Award is based on research conducted in the enterprise market as well as testing in the BLI lab. The award recognizes manufacturers that have incorporated end-to-end ease of use, from loading paper and copying, to scanning, printing, misfeed removal, job management and more. Sharp offers nearly thirty models in its lineup with a common user experience and consistent feature set.
In addition to these two high profile awards, Sharp also earned three BLI pick awards. Pick awards acknowledge the products that gave the best performance in BLI's extensive suite of laboratory tests in the previous six months. Sharp's MX-M3570 and MX-M5070 each earned honors for outstanding MFP in their group, and the MX-B455W earned outstanding MFP for mid-size workgroups.
"As business process automation increases in popularity for enterprises, more and more employees are integrating scanning in their workflows - and they need to do so efficiently," said George Mikolay, Associate Director of Copiers/Production for Keypoint Intelligence - Buyers Lab. "Sharp fits the bill, with a standard integrated keyboard, making data entry at the MFP as fast as it would be at a computer. In addition to the keyboard, Sharp offers the ability to store preset messages, extensions and domains as one-touch keys to combat lags in scanning. The scan preview is easy to navigate and supports onscreen editing."
Fraser Advanced Information Systems is a proud Sharp dealer, partnering with Sharp for more than 35 years to bring the best-in-class products to our customers. If you're looking for reliable, easy-to-use and technologically innovative MFPs, look no further than Fraser and Sharp. Contact us today to see how Fraser can help you make your ordinary office SMART!